FAT partition file recovery tools recover lost damaged FAT16 FAT32 VFAT allocation table mbr dbr data files folders software specialist undelete unformat deleted system volume information utilities repair formatted hard disk drive root directory bad sector word excel PowerPoint text document pictures download freeware product
HOME
► FAT Partition File Recovery Tool
FAT Partition File Recovery Tool
FAT partition file recovery software recovers and restores all lost, deleted, corrupted files and folders from hard disk drives partitioned on FAT file system. The recovery software restores data even if root directory, boot sector or file allocation table entries are corrupted and similarly from previously existing partitions. Safe, non-destructive easy to use utility helps to recovers lost files and directories from windows hard-disk drives in the easiest way. The powerful technology with unique recovery algorithms makes it the best utility for the lost data recovery.
Fully capable to recover data lost due to formatted, deleted or corrupted partitions in all logical crash. When the software is running, a complete scan of the damaged drive is performed to recover and locate lost files and folders. The software is very easy to use and does not require any special training to operate it.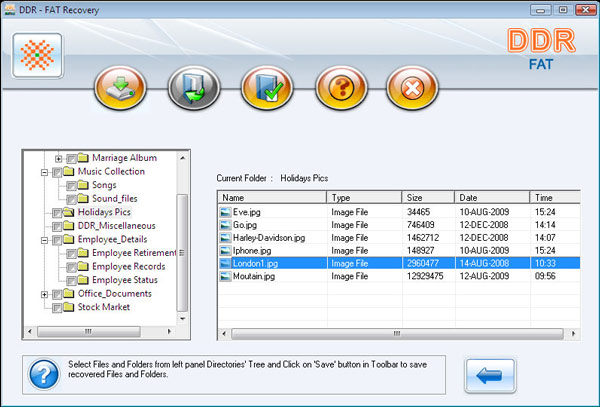 Key features:
Recovers deleted files and folders from your crashed hard disk drive.
Restores missing, corrupted and damaged files & folders.
Data recovery support to all partition driven data loss.
Recovers data loss due to software virus attack.
Restore all doc file, txt data, rft file and all stored data on your disk.
Support disk drives like SCSI, SATA and ATA.
Support FAT based file system.
Recovers data loss due to power surge or failure.
The recovery process is fast and takes minimal time.
Support any capacity hard disk drive.
The software is very easy to operate even by non-technical staff.