DDR Professional Data Recovery Software
(Developed to recover lost and deleted data from Hard disk, USB drives, Memory cards, Digital camera, Mobile phones etc)
Extremely powerful and versatile DDR Professional Data Recovery Software is expertise in recovering deleted and accidently erased data from commonly used digital storage devices. Designed specifically for both IT professionals and common users, file undelete utility safely rescue all photos, stills, pictures, audio-video songs and important documents from commonly used mass storage devices. Utility restore files lost from Recycle bin or misplaced after drive formats, virus attacks, file corruption, improper device usage, partition errors, OS failure and other unexpected data loss events.
Disk data recovery software combines powerful technology with instinctive features to easily retrieve files from fixed or removable media drives. Technically advance software even rescues data from such Pen drives, Memory cards or External HDD that are operated on Linux or Max OS X operating systems. Easily connect such USB media on Windows machines having DDR Professional recovery software installed and simply run as guided in the help file. Use the best data recovery software and you will never have to worry about data loss in the future again.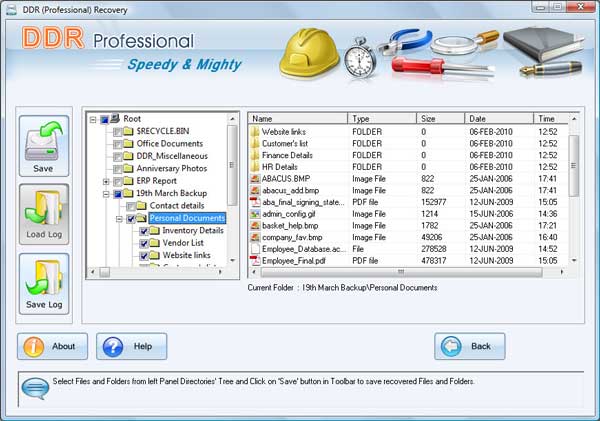 Key features:
Quickly recover files from hard disk or any USB removable media.
Recovers data from USB media that are operated on Linux or Mac OS.
Self data extracting feature automatically recovers missing files.
Allows user to save recovered files user specified location.
Simple recovery steps helps in quick restoration of deleted files.
Friendly GUI interface allows novice to easily operate the program.
No expert guidance or technical skills needed to operate the program.
Cost-effective, Simple and Easy-to-use data recovery tool.